Custer State Park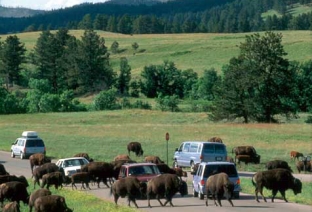 Custer State Park covers 73,000 acres (29,200 ha), making it one of the largest state parks in the nation. From its northern sector, in the shadow of 7,242-foot high (2207m) Harney Peak, to the forest, meadows, and prairie inlest of its southeast corner, Custer State Park offers something for everyone.
Two unique drives through the park include the Needles Highway (87) and Iron Mountain Road (16A). Needles Highway curves and winds through roads that experts said couldn't be built. Iron Mountain Road is perhaps the most scenic approach to Mount Rushmore. The 17-mile (27.4 km) route features pigtail bridges and three granite tunnels that frame the faces of Mount Rushmore.
From the State Game Lodge, visitors often take jeep rides to see one of the largest publicly owned buffalo hers in the country. Other park inhabitants such as elk, whitetail deer, coyotes, wild turkey and golden eagles can often be seen along the 19-mile (29 km) Wildlife Loop road. Hiking, mountain biking and horseback riding are popular on numerous trails throughout the park.
Entertainment includes the Black Hills Playhouse, where dramas, comedies and musicals are presented throughout the summer; living history demonstrations and naturalist programs conducted by rangers; and chuckwagon suppers and hayrides into the inner reaches of the park.