Badlands National Park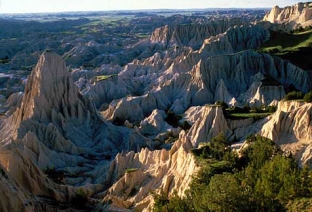 Thirty-seven million years of wind and water erosion have carved and eerie sight from the vast prairies of western South Dakota. Steep precipices, saw-edged spires and colored grassy-topped buttes form a strange and beautiful landscape that tells the story of Earth's history.
This is the Badlands, 244,000 acres (98,746 ha) of primordial landscape. Pink and brown bands of sandstone, sedimentary layers laid down by volcanic ash and long expired rivers stain the steep cliffs and canyon walls. The skeletons of ancient camels, three-toed horses, saber-toothed tigers, and giant rhinoceros-like creatures among the many fossilized species found here. Living creatures abound as well.
Buffalo, mule deer, pronghorn antelope, coyotes and prairie dogs have the run to the park and can often be seen by visitors. The entire park is open to hiking. Six marked trails provide leisurely walk ranging from a 1/4 mile (.4 km) loop past fossil displays to a 5 1/4-mile (8.5 km) one-way path across the prairie. Park rangers conduct interpretive programs daily throughout the summer and offer special presentations like a night mystery walk across the prairie or an early morning nature walk.