Crazy Horse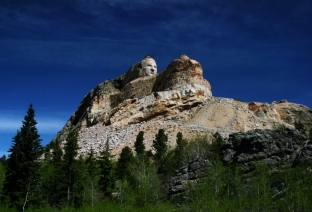 A fifth granite face is emerging in the Black Hills. The colossal Crazy Horse mountain carving, now in progress, can be seen just 17 miles (27.4 km) from Mount Rushmore.
Crazy Horse is the largest sculptural undertaking ever-on a scale with the Egyptian pyramids. When completed, it will tower 563 feet (171.6 m) high, 641 (1195 m) long and be carved in the round. Visitors can watch history in the making as drilling and blasting continue on the features of the emerging, nine-story head and face of Crazy Horse.
In 1939, Lakota Chief Henry Standing Bear invited sculptor Korczak Ziolkowski to carve an Indian memorial in the Black Hills. Though Korczak died in 1982, the sculptor's wife and family continue the non-profit project.