Log Cabins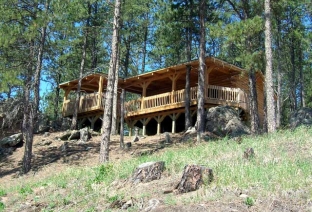 A total of 20 cabins are nestled peacefully amongst the pine trees at Rock Crest Lodge. Of those 20 cabins, 19 lie directly behind the lodge. All cabins are non-smoking and include full baths, mini-fridges, and the amenties listed here. A few of the cabins include full kitchens or even a hot tub! The largest cabin, French Creek Ranch, is actually a few miles down the road on its own 20 acres along babbling French Creek.
*Guests who require accessibility are encouraged to book lodge rooms instead, as cabins have multiple steps and are located on uneven terrain.
Rock Crest Lodge is open seasonally starting in May through mid-October. Discounted rates available through mid-June and starting again in September.
French Creek Ranch House
Don't forget to check out our beautiful new French Creek Ranch house for groups and family gatherings! It sleeps up to 24 and has a full kitchen, pool table, a wraparound deck, stables for horses, and more.
Photo Gallery Photo Gallery Photo Gallery Photo Gallery

Cabin - Double Queen with Deck $215

One-room cabin with two queen beds, a large covered deck with patio furniture, and full amenities. This cabin also shares a smaller deck with cabin #4 and is near the parking area. Inventory: 8

Photo Gallery Photo Gallery Photo Gallery Photo Gallery

Cabin - Double Queen with Loft and Full Kitchen $250

One-room cabin with two queen beds in the sleeping loft and a queen-size sofa sleeper on the main floor, full amenities, and a large covered deck with patio furniture. The full kitchen includes the following: full-size sink, full-size stove and fridge, pots, pans, utensils, and dishes are supplied. Inventory: 3

Photo Gallery Photo Gallery Photo Gallery Photo Gallery

Cabin - King and Sofa Sleeper $210

One-room cabin with one king bed and a queen size sofa sleeper, full amenities, and a covered deck with patio furniture. Inventory: 1

Photo Gallery Photo Gallery Photo Gallery Photo Gallery

Cabin - King with Hot Tub $235

One-room cabin with one king bed, queen-size sofa sleeper, electric fireplace, full amenities, a covered deck with outdoor hot tub, and patio furniture. Guest parking is near cabin #2; a 35-yard path connects guests between the cabin and parking. Inventory: 2

Photo Gallery Photo Gallery Photo Gallery Photo Gallery

Cabin - Queen with 2 Twins $210

One-room cabin with one queen bed, twin bunk beds, full amenities, and a covered deck with patio furniture. This cabin has a back door that adjoins to cabin #10 via a small deck, great for families that are traveling together. Inventory: 1

Photo Gallery Photo Gallery Photo Gallery Photo Gallery

Cabin - Queen with Full Kitchen & 3 Twins $260

One-room cabin that includes one queen bed and three twin beds in the sleeping loft, and a queen-size sofa sleeper on the main floor. Full amenities included as well as a large covered deck with patio furniture. The full kitchen includes the following: full-size sink, full-size stove, fridge, pots, pans, utensils, and dishes are supplied. This cabin is also connected to cabin #5 via walkway and close to parking area. Inventory: 2

Family Cabin (not pictured) $270

Two-bedroom cabin with one queen bed in one room and two twin beds in the other. The living room has a sofa sleeper as well. Full amenities included. The full kitchen includes the following: full-size sink, full-size stove, fridge, pots, pans, utensils, and dishes are supplied. Sleeps up to six (6). This cabin is located behind the Rock Crest Front Desk, within walking distance to the lodge rooms.. Inventory: 1

Photo Gallery Photo Gallery Photo Gallery Photo Gallery Photo Gallery

French Creek Cabin $375

Two-bedroom cabin, with one queen bed in each room, two twin beds in the open sleeping loft, and a double-size sofa sleeper on the main floor. Two full baths. The fully stocked kitchen includes: a full-size sink, full-size stove, a fridge, and a dishwasher. Gas fireplace and flat screen TV in living room. Front deck with outside table and chairs, and back deck with private hot tub and propane grill. Sleeps up to eight (8). Located behind the Rock Crest Front Desk, within walking distance to the lodge rooms. Inventory: 1.

Photo Gallery Photo Gallery Photo Gallery Photo Gallery Photo Gallery Photo Gallery Photo Gallery Photo Gallery Photo Gallery Photo Gallery Photo Gallery Photo Gallery Photo Gallery Photo Gallery Photo Gallery Photo Gallery

French Creek Ranch $1250

This beautiful new six-bedroom cabin features five full baths, a full kitchen, a gas fireplace, wraparound deck, Great Room, basement game lounge, pool table, wet bar, and tons more. Read more about the French Creek Ranch, or view the detail sheet:

French Creek Ranch Detail & Pricing Sheet